CS1924 – 4-Port USB 3.0 4K DisplayPort KVMP™ Switch (Cables included)
Supports superior video quality – 4K UHD (3840 x 2160 @ 60 Hz) and 4K DCI (4096 x 2160 @ 60 Hz); 2-port USB 3.1 Gen 1 hub with SuperSpeed 5 Gbps data transfer rates
Computer selection via front panel pushbuttons, hotkeys and mouse1
Multi-Stream Transport (MST) allows multiple monitors through a single DisplayPort connector3
DisplayPort Dual-Mode technology (DP++) supports HDMI and DVI signals via a DisplayPort-to-HDMI/DVI DP++ adapter4
Compare
Mô tả
Vendor Info
More Products
Mô tả
Overview
The ATEN CS1924 4-Port USB 3.0 4K DisplayPort KVMP™ Switch provides the latest innovations in desktop KVM switching technology for the increasing demand of higher video quality and transfer speeds on modern computers. The ATEN CS1924 offers an unprecedented performance of delivering 4K resolution, the next generation USB 3.1 Gen 1 hub with SuperSpeed 5 Gbps data transfer rates and enhanced user-friendly operations.
As a KVM switch, the CS1924 allows users to access four DisplayPort computers from a single USB keyboard, USB mouse and monitor console. Doing so with ease, the CS1924 provides three convenient switching methods – using front panel pushbuttons, mouse, or hotkeys for flexible access to any computer connected to the installation. The unique independent switching feature allows the KVM control to focus on one computer while the USB peripheral focus is on another computer. This eliminates the need to purchase a separate USB hub or stand-alone peripheral sharer – such as a print server, modem splitter, etc. With its rich feature set, the CS1924 is designed to surpass all requirements in graphic design, animation, and video-editing applications. Such as CAD/CAM (computer aided design/manufacturing). The CS1924 allows you to share the audio from each of the connected computers. HD audio transmitted by DisplayPort would offer you a different experience.
Package Contents
1x 4-Port USB 3.0 4K DisplayPort KVMP™ Switch
4x DisplayPort 1.2 Cable (1.5m/5ft)
4x USB Cable (USB 3.0-A to USB 3.0-B; 1.8m/6ft)
8x Audio Cable (1.8m/6ft)
1x Power Adapter
1x User Instructions
Features
4-port DisplayPort KVMP™ Switch with USB 3.1 Gen1 hub and 2.1 surround sound audio
One USB console controls 4 computers and 2 USB peripherals
Computer selection via front panel pushbuttons, hotkeys and mouse1
Independent switching of KVM, USB, and Audio focus
Superior video quality – 4K UHD (3840 x 2160 @ 60 Hz) and 4K DCI (4096 x 2160 @ 60 Hz)
2-port USB 3.1 Gen 1 hub with SuperSpeed 5 Gbps data transfer rates
DisplayPort 1.2 compliant, HDCP compliant
Supports HD audio through DisplayPort2
Full bass response for high-quality 2.1 channel surround sound systems
Power On Detection – if a computer is powered off, the CS1924 automatically switches to the next powered-on computer
Multi-Stream Transport (MST) allows multiple monitors through a single DisplayPort connector3
DisplayPort Dual-Mode technology (DP++) supports HDMI and DVI signals via a DisplayPort-to-HDMI/DVI DP++ adapter4
Hot pluggable – add or remove computers without powering down the switch
Keyboard emulation/bypass feature supports most gaming keyboard
Mouse emulation/bypass feature supports most mouse drivers and multifunction mice
Multi-platform support – Windows, Mac and Linux
Multilingual keyboard mapping supports English, Japanese, French and German keyboards
Mac keyboard support and emulation5
Auto Scan Mode for monitoring all computers
Firmware upgradeable
Note:
1. Mouse port switching is only supported under mouse emulation mode with a USB 3-button mouse wheel.
2. HD audio through DisplayPort cannot be switched independently.
3. MST (Multi-Stream Transport) requires either monitors that are capable of DisplayPort 1.2 daisy-chaining, or use of a powered DisplayPort MST Hub. A DisplayPort v1.1a display can be the last display in a DisplayPort v1.2 chain. The PC source must be DisplayPort 1.2 compliant
4. DisplayPort Dual – Mode technology (DP++) does not require an active adapter for most single display setups. Active DisplayPort adapters are recommended if you are unsure of the video source's DP++ compatibility.
5. PC keyboard combinations emulate Mac keyboards. Mac keyboards only work with their own operating system
Diagram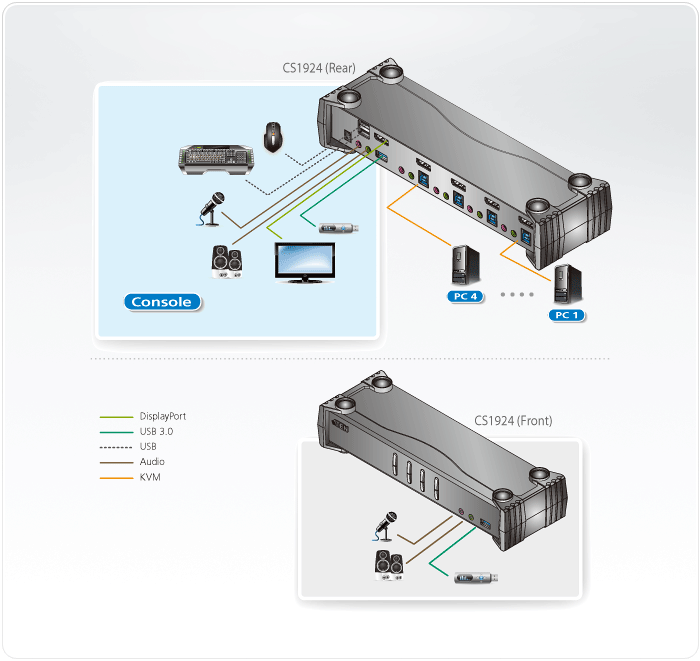 Specifications
Computer Connections
4
Port Selection
Hotkey, Pushbutton, Mouse
Connectors
Console Ports
2 x USB Type A Female (Black)
1 x DisplayPort Female (Black)
2 x 3.5mm Audio Jack Female (Green; 1 x front, 1 x rear)
2 x 3.5mm Audio Jack Female (Pink; 1 x front, 1 x rear)
KVM (Computer) Ports
4 x USB3.1 Gen1 Type B Female (Blue)
4 x DisplayPort Female (Black)
4 x 3.5mm Audio Jack Female (Green)
4 x 3.5mm Audio Jack Female (Pink)
Power
1 x DC Jack
USB Hub
2 x USB3.1 Gen1 Type A Female (Blue; 1 x front panel; 1 x rear panel)
Switches
Selected
4 x Pushbutton
LEDs
On Line /Selected
4 (Orange)
USB Link
4 (Green)
Emulation
Keyboard / Mouse
USB
Video
4096 x 2160 @ 60Hz
Scan Interval
1-99 Seconds (Default: 5 sec.)
Power Consumption
DC5V:2.99W:57BTU
Environmental
Operating Temperature
0-50°C
Storage Temperature
-20-60°C
Humidity
0-80% RH, Non-condensing
Physical Properties
Housing
Metal, Plastic
Weight
0.91 kg ( 2 lb )
Dimensions (L x W x H)
27.00 x 8.80 x 5.55 cm
(10.63 x 3.46 x 2.19 in.)
Note
For some of rack mount products, please note that the standard physical dimensions of WxDxH are expressed using a LxWxH format.
Vendor Information
Vendor:

admin
No ratings found yet!